Press release:
"HIEROPHANT will be kicking off their UK tour with a warm-up gig in the Netherlands tonight. The deadly Italian misanthropes will be supported by ABSOLVE and ROTT 'N DAMNED at the Bibelot Poppodium in Dordrecht.
This showcase will immediately be followed by an assault on England. London will be hit first at The Lounge 666, tomorrow 17th of March. And after wrecking Leeds, Bristol, and Hull the final curtain will drop at The Westcoast Bar in Canterbury on March 21st.
HIEROPHANT commented: "We are very stoked to hit the road again. We can be nothing but grateful for all the support we got lately. Mark your date in the calendar and see you in the grave!""

HIEROPHANT UK & Netherlands
16 Mar 17 Dordrecht (NL) Bibelot
17 Mar 17 London (UK) The Lounge 666
18 Mar 17 Leeds (UK) Temple of Boom
19 Mar 17 Bristol (UK) The Stag and Hounds
20 Mar 17 Hull (UK) Gorilla Studio
21 Mar 17 Canterbury (UK) The Westcoast Bar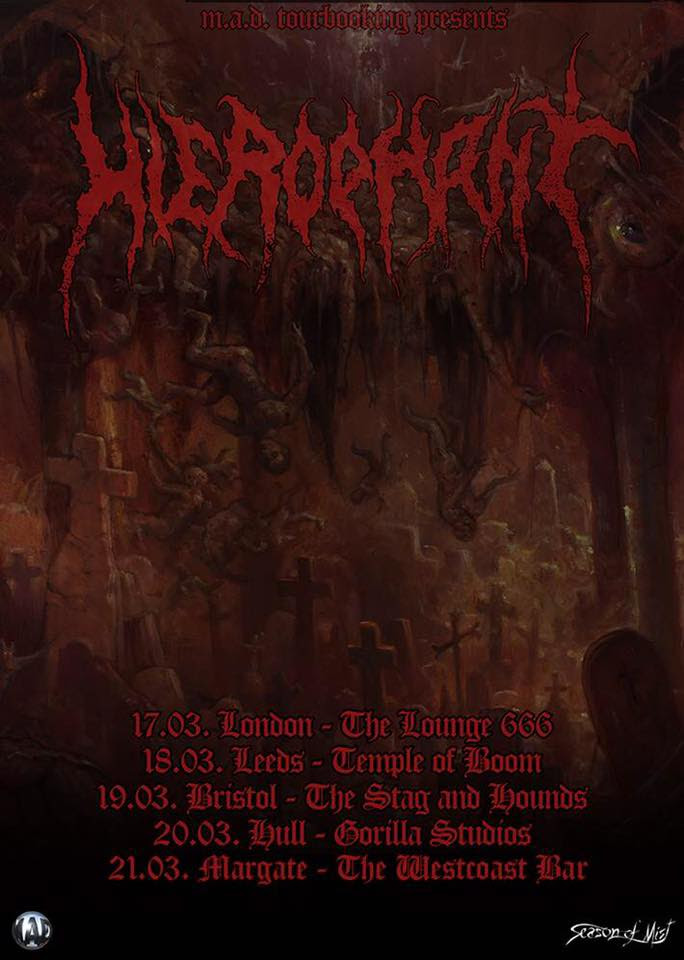 "HIEROPHANT will be touring in support of their current album 'Mass Grave', which was released on November 4th 2016.
'Mass Grave' is streaming in full via YouTube at the link below.
HIEROPHANT commented: "Our new album, 'Mass Grave' is the result of two years spent collecting disgust and constant disappointment towards humanity and transforming this feeling into music. We are more than proud of that. Check this full record stream now."
The artwork of 'Mass Grave' has been created by the renowned Italian painter Paolo Girardi (INQUISITION, THE LION'S DAUGHTER) and can be viewed together with the track-list below."
Track-list
01. Hymn of Perdition
02. Execution of Mankind
03. Forever Crucified
04. Mass Grave
05. Crematorium
06. In Decay
07. Sentenced to Death
08. The Great Hoax
09. Trauma
10. Eternal Void
"Darkness comes crushing down like an avalanche of despair, misery, and pain. While an undercurrent of harsh brutality is tangible within each note, there is also a black void clawing at sanity and trying to drag all emotion into the lurking abyss. HIEROPHANT conjure a bleak sonic landscape on their fourth full-length 'Mass Grave'.
HIEROPHANT were conceived in the classic Adriatic city of Ravenna in the Emilia-Romagna in 2010.
The band quickly left a mark as one of the leading exponents of extreme Italian music. A first self-titled full-length was released in the same year as their founding and the band started to constantly play all over Europe. HIEROPHANT were also picked up on the other side of the pond. Following the EP 'Son of the Carcinoma' (2013), their sophomore album 'Great Mother: Holy Monster' (2013) was also released in North America.
Several tours and festival performances later, the Italians showed no sign of relenting. Their third full-length 'Peste' (2014) rather increased the band's massive sonic impact, amalgamating sludge, black and death metal as well as a manifest punk attitude.
Now HIEROPHANT take their extreme brand of hard music a step further with the ominously titled 'Mass Grave'. No pink unicorns here."
Line-up
Lorenzo: vocals, guitar
Ben: drums
Steve: guitar
Giacomo: bass, backing vocals
www.facebook.com/hierophantkvlt